Apple has released iOS 15.5 updates for iPhone to make it more user-friendly. The new version was introduced along with iPadOS 15.5 and macOS 12.4.
The new version of the operating system brings updates such as the new Apple Cash feature, podcast app, and bug fixes for the Studio Display webcam, iOS 15.5 contains about 30 security fixes, and macOS 12.4 contains more than 50 security fixes.
 The next version is expected to be released on June 6 at the Apple Worldwide Developers Conference, known as WWDC.
Top Features in iOS 15.5 include:
1. Apple Pay Cash:  The Wallet app will empower Apple Cash customers to send or request money via Apple Cash card. There will be 'Request' and 'Send' buttons on the app to help users manage their money directly through the Wallet app.
2. Weather app – Users will see a 'Report an issue' button at the bottom of the Weather app.  The button will make it easier for users who see erroneous data in the app to report it.
3. Apple Classic app –  Apple Classic app for streaming classical music is coming soon.
4. Apple Podcasts now includes a new feature that limits the number of episodes stored on your device by automatically deleting old episodes when new ones are added.
5. Home app: After updating your iPhone to iOS 15.5, you'll see new Wi-Fi signal bars that will let you ensure that the HomePod has a connection in the Home app. The home app will also remind users about important notifications that require immediate attention, even if the iPhone is in silent or DND mode.
Top Features in macOS 12.4 include:
1. Apple Podcasts also lets you limit the number of downloads stored on your Mac.
2. A separate update to Studio Display 15.5 improves camera settings, including reduced noise, contrast, and better framing.
3. The Universal Control feature, first announced at WWDC 2021, has been in beta since Apple released it. It allows you to use your Mac's keyboard, mouse, or trackpad to control up to two other nearby Mac or iPad devices and work seamlessly between them. As per the new update, Apple's Universal Controls feature for macOS Monterey is no longer in beta.
Steps to update your phone are given below:
Apple customers must go to Settings > General > Software Update to update to iOS 15.5. Apple also released the May 2022 security update for iPhone and iPad with the latest update.
Subscribe us now to stay up-to-date with the latest technology news and updates. Follow us on LinkedIn, Facebook, YouTube, and Instagram.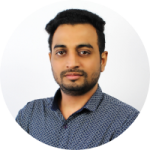 Full Stack Technical Lead
A well-versed Senior Full Stack Developer who has the expertise of providing front-end and back-end development services. He is an effective and efficient personnel who knows how to make the right technical decisions at the right time. He understands the basics of working collaboratively with stakeholders, engineers, executives, and end-users to bring the ideas to life. He is a top-performer and motivator who has the added advantage of technology as leverage to achieve timely results.