After 27 years of service, the legendary Internet Explorer is retiring. The web browser was introduced in 1995 as part of the add-on package Plus! for Windows 95.
Newer versions of the browser are available as free downloads or in-service packs. They are included with the Original Equipment Manufacturers (OEM) Service Edition of Windows 95 and later versions of Windows.
Why is Microsoft discontinuing Internet Explorer?
Internet Explorer reportedly peaked in 2003 with around 95 percent usage. However, with the introduction of new browsers from other competitors, Internet Explorer's user base continued to decline in the following years.
There hasn't been any feature development for Internet Explorer since 2016, since Microsoft released its new browser, Microsoft Edge.
Microsoft 365 ended support for Internet Explorer on August 17, 2021, and Microsoft Teams ended support for Internet Explorer on November 30, 2020. And now, Internet Explorer will be discontinued on June 15th.
What's the future of web browsers?
Microsoft Edge Program Manager Sean Lyndersay said that the future of Internet Explorer on Windows 10 is in Microsoft Edge.
He added that Microsoft 10 is much faster, more secure, and more modern than Internet Explorer. It can also address a major issue: compatibility for older and outdated websites and apps.
Microsoft Edge has a built-in Internet Explorer mode so that users can access these old Internet Explorer-based websites and applications directly from Microsoft Edge.
The time to bid farewell to Internet Explorer has come, but undoubtedly Internet Explorer will be remembered fondly by anyone.
You may feel nostalgic after hearing about the latest evolution of Internet Explorer because you have some fond memories of Internet Explorer in the 90s and early 2000s.
For more such news and updates, follow our Forcebolt's Youtube Channel and stay updated with everything going on in the world of programming and technology.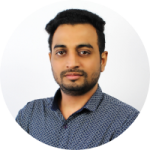 Full Stack Technical Lead
A well-versed Senior Full Stack Developer who has the expertise of providing front-end and back-end development services. He is an effective and efficient personnel who knows how to make the right technical decisions at the right time. He understands the basics of working collaboratively with stakeholders, engineers, executives, and end-users to bring the ideas to life. He is a top-performer and motivator who has the added advantage of technology as leverage to achieve timely results.