With the grand launch by Prime Minister Narendra Modi, India is all set to enter the 5th generation mobile network era. 
Excitement and expectations are beyond high with the launch of new technology as it aims to provide a high data rate, seamless coverage, low latency, and a highly reliable communications system. 
Contributing to India's economy, 5G services are also expected to play an influential role in achieving a $5-trillion economy by 2024-25. According to specialists, 5G can deliver an additional GDP of $150 billion for the nation between 2025-40. 
5G claims higher data speeds than 4G. At its highest, internet speeds of 5G can touch 10 Gbps, comparing the 100 Mbps peak of 4G. With this, the new technology will provide seamless coverage in remote areas across the country, resulting in better accessibility.
5G will also significantly contribute to technological advancements such as Virtual Reality (VR), Augmented Reality (AR), and more by impacting numerous sectors.
The fan experience at live music and sports events like football matches will be improved using 5G technology. The low latency offered by it will provide an exceptional experience to sports enthusiasts.
The 5th Generation Network will push new business models and foster new services and products powered by the Internet of Things (IoT) technologies. Along with it, it will help maximize the cost-effectiveness of the EV ecosystem.
Next-generation 5G network will play a critical role in making remote working more effective by providing employees with a more comfortable working atmosphere & better network speed rate.
Talking about the manufacturing sector, 5G services will help reduce costs, reduce downtime, minimize wastage, and boost productivity. 5G is predicted to bring the logistics cost to 5% from the current 13-14%.
Impacting the safety and surveillance sector, 5G services will help enable remote control over disaster-hit areas and minimize the role of humans in hazardous industrial operations such as in deep mines, offshore activities, etc.
Thanks for reading this news. For such informative news & latest updates, follow us on ForceBolt's YouTube Channel, LinkedIn, Facebook, and Instagram.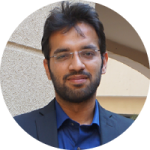 The Chief Operating Officer of ForceBolt and a decisive leader who possesses a wide array of technical skills and management skills to implement operational changes by working at different levels of development. Being enthusiastic and technology proficient, he understands the importance of staying up-to-date with the latest technological transformations and provides competitive, scalable and efficient solutions. He has a good command of technical language and possesses good communication skills. Being a leader makes him a good team player, and he resonates with his priorities well.